Call for volunteers | EVS in Hungary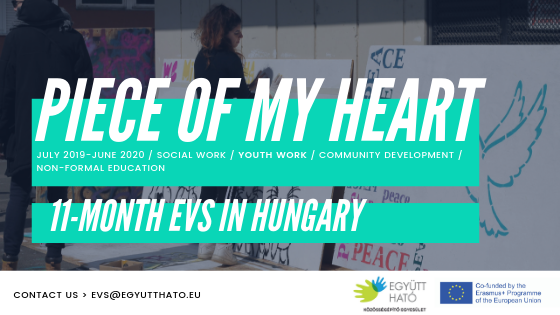 Click to see the infopack
We are looking for 6 volunteers from Erasmus+ programme countries (please check if you are eligible!) to join our afterschool HatásPont ("Impact point") which is located 1h drive from Budapest in Gyöngyös. Gyöngyös is a town situated at the foot of the Mátra mountains and the afterschool in the centre of the town. It is an inclusive environment for children with different abilities and ethnic backgrounds.
Duration: July 2019 - June 2020 (exact arrival dates to be fixed with selected applicants)
Volunteers' tasks: running workshops and other activities in the afterschool, tutoring children, community development work at local organisations in Gyöngyös.
Volunteers are provided: accommodation, food vouchers, transport to Hungary, insurance, Hungarian language courses and mentoring. There is no participation fee.
Volunteers with a disadvantaged background: We particularly welcome applications from people who identify with ethnic
minorities, disadvantaged economic classes or LGBTQ+ communities, also people of colour and people with disabilities. Of course we would still like you to apply even if you don't identify with any of these.
How to apply? Find more information in the infopack and if you feel that this project is for you, send your CV and motivation letter in English (around 1 page, explaining your interests and background + why you would like to volunteer with with us) to evs@egyutthato.eu.